CORPORATE PROFILE
Australian Pipeline Valve (APV) was established in 1989 as a specialist manufacturer of quality valves and pipeline products for oil & gas as well as petrochemical, power generation, mining, process and general industrial applications. The cornerstone of APV is quality and service. We focus on clients who require a high quality, technologically advanced product as well as comprehensive documentation and certification. APV manufactures a broad range of American Society of Mechanical Engineers (ASME) and American Petroleum Institute (API) compliant valves including gate, globe and check valves. We also offer a large range of quarter turn valves including floating and trunnion ball valves in soft and metal seats, lubricated and lined plug valves as well as butterfly valves in lined and high performance types. To complete the range, APV also manufactures a selection of complementary products such as actuators, gearboxes, strainers and sight glasses. In addition to our Australian facility capabilities, APV valves are produced by reputable approved manufacturers in Korea, Taiwan, China, Spain and Italy. APV has numerous processes and quality management strategies in place to specify, manage and oversee the valve manufacturing, certification, witness testing, approval, documentation, authenticity and through life support of the final product.
As a long term oil and gas specialist, we have also been supplying APV oilfield valves and chokes since 1989.
CORPORATE PHILOSOPHY
APV corporate philosophy is to bring to the market new
and innovative valve designs with a special emphasis on
quality, safety, ease of operation, simple in-line maintenance and most of all, long service life. All this combined with the use of high quality materials and advanced manufacturing technology ensures the highest possible quality at a competitive price.
APV is strongly committed to increasing our market position and competing in all countries around the world. The company's impressive growth over the past 20 years is testimony to its strong competence in research, design, production and marketing with a firm determination to maintain its position as a short lead time, high quality manufacturer in the valve industry, today and in the future.
APV is controlled by valve experts and our accredited subcontractors are technologically advanced. We are an independent privately-owned entity able to respond much quicker than major manufacturers while ensuring a much higher level of attention to detail.
COMPANY OVERVIEW
APV is a valve specialist, controlled by knowledgeable and skilled valve experts. APV manufactures valves for chemical, petrochemical, utilities and oil & gas industries, for both domestic and foreign markets. Our headquarters is located in Adelaide, South Australia.
We strive to provide our customers the highest quality product at a competitive price and delivery time. Design, development and testing are
the cornerstones of our business philosophy.
Production Range
APV manufactures ball, check, gate, globe and
plug valves made from steel, stainless steel,
titanium, super duplex, nickel and exotic alloys for:
• Chemical and petrochemical plants
• Refining and desalting plants
• Oil and gas production/transportation
• Mining
• Water treatment
• Power generation
• Hydrogen
APV Valve Manufacturing Range Overview
Fast Track Manufacturing Special & Exotic Valves
Newsletter
Special Executions
Metal to metal seated ball, butterfly and plug valves, abrasive and high temperature service valves. Also cryogenic valves, buried service valves, LNG valves and ESDV packages.
Special Products
We also manufacture:
• 3-way ball valves
• Abrasive service specialty valves
• High & low temperature valves
• Jacketed valves
• Strainers
• Actuators
• Well head equipment
Applicable Standards
The following standards and codes are those governing
design and manufacturing of APV valves. Other codes
and standards may be considered upon request.
Testing
APV believes in the importance of the final testing of the product. Dimensional and functional control test are carried out on every valve; pressure testing is performed in accordance with API 6D - API 598 - ISO 5208 - API 6A - ASME B16.34 - EN 12266-1 - BS 6755 or MSS.
High Pressure Hydraulic Shell test
High Pressure Hydraulic Back Seat test
High Pressure Hydraulic Seat test
Low Pressure Pneumatic Seat test
Functional test
Certification
All our valves are shipped with comprehensive mechanical, chemical and pressure test material certification (MTC) according to DIN 50049.3.1 or 3.2 (EN 10204.3.1/3.2) as well as other certification, depending on client request.
Non Destructive Testing
MT:Magnetic particales examination
PT:Dye penetrant examination
UT:Ultrasonic examination
RT:Radiographic examination
Special tests such as cryogenic, fugitive emission, HP gas test, etc., can be performed.
EXTENSIVE PRODUCT LINE
One-Stop Valve Supplier
APV offers one of the most comprehensive ranges of valves. From the most common application to the most severe, APV has a solution. We produce gate, globe, check, ball, plug and butterfly valves in conventional and engineered severe service configurations in sizes up to 1500mm (60") and for services up to ASME Class 4500.
Built to Order in Short Delivery
Our valves are available with a near endless selection of body materials, trims, options and accessories. From options such as bypasses and counter weights to special trims for abrasive, geothermal HF acid or NACE service, APV can provide valves built to your needs - often directly from our extensive stock holdings. Valves can be manufactured with special face to face dimensions, end connections and bore sizes.
All APV valves are available with actuation packages according to customer needs. This includes electric, hydraulic and pneumatic actuation with a complete range of controls and accessories. Our in-house automation facility also ensures actuation and control options can be produced in very short lead times.
Low Total Cost of Ownership
Take into account all the factors involved in owning a valve, including installation, service and maintenance. The total cost of ownership of a valve can be several times the initial purchase price.
APV valves are designed and manufactured with this in mind. Our valves will save you money, by lowering maintenance costs, increasing service life and increasing the chance that a valve can be repaired rather than replaced.
The performance of our valves has been proven over and over again in thousands of installations. Customers throughout the world have made APV their preferred choice, based on our track record.
Apart from the industry-leading performance of our valves, APV offers supplier-integrated engineering, value-added services and all the other advantages you would expect from dealing with a forward thinking valve specialist.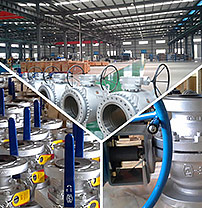 APV's API6D/Q1 Licensed Joint Venture Facility
Family of Brands
APV manufactures a complete range of ANSI/ASME, API, MSS, ISO, BS and AS valves such as check, gate, globe, as well as firesafe certified ball, butterfly and plug valves for petrochemical, oil, gas, mining, process and industrial markets under the APV brand. APV also supply oilfield wellheads and associated products.
The APV family also includes a fleet of established, trusted brands which cover a broad range of valve types and pipeline products for all industries. These brands have been sold around the world for over 20 years through our established distribution network.
The APV brand and its fleet of brands incorporate the following products:
Ball Valves
- API, Firesafe
Check, Gate, Globe Valves
- ASME, API, BS
Plug Valves
- Lubricated and Lined
Oilfield Valves and Wellheads
- API6A
Diamond Gear® Gearboxes
- Multi-turn and 1/4 turn
Flowturn® Strainers, Sight Glasses & Valves
- Diaphragm, Needle, Iron Gate Globe & Check
Steamco® Steam Valves
- Parallel Slide & Geothermal Gate, SDNR & Piston Globe/Check
Supercheck® Wafer Check Valves
- Single and Dual flap
Superseal® 1/4 Turn Valves
- High performance and Lined Butterfly and Industrial Ball Valves
Torqturn® Actuators
- Pneumatic & Hydraulic Scotch Yoke Quarter Turn
Twin-Lok® Tube Compression fittings
- Twin and Single Ferrule
Uniflo® Ball Valves
- Iron, Resilient Seated
For more information on our product range Click here