SUPERSEAL BUTTERFLY VALVES
HIGH PERFORMANCE BUTTERFLY VALVES
Model SLHBF, SLHBF-FS & SLHBF-T
Standard and Firesafe
• Double and Triple offset style
• Size range 50 NB to 1000 NB (2" to 40")
• ANSI class 150 to 1500
• ANSI class VI shut-off, bubble tight
• Metal seating for high pressure with PTFE insert
• Wafer, lugged & flanged type end connections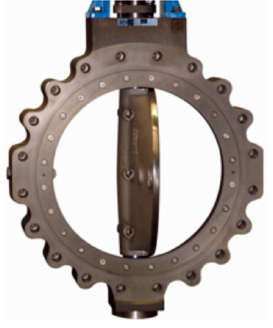 Principle Of Valve Design
The standards SLHBF/SLHBFFS design is double offset (double eccentric). Triple eccentric (triple offset) SLHBF-T style is also available for class V and VI metal seated design.
The basic concept of the SLHBF/SLHBFFS is to only utilise a thin slice of a ball valve at the seat ring area. The body is only wide enough to hold the disc, shaft and seat in place, all the remaining material is eliminated because it serves no purpose. Ball valves have 2 seats, but floating balls only seal on the upstream seat hence the sealing effectiveness of a HP Butterfly Valve is the same. The disc seating edge is a segment of a sphere and creates a reliable, high pressure seal against an uninterrupted 360ºC seat sealing surface. The disc profile is very thin and allows maximum flow with a low pressure drop.
The most common use of the SLHBF/SLHBFFS is to shut off flow inside a pipeline. Every component of the valve is designed to contribute to this goal. The disc, shaft, bearings, packing and disc pins all work together to ensure that the disc is accurately positioned when closed to allow the seat to energise to the disc and create a seal.
Features
The SLHBF Range is based on a unique quarter-turn design. The double offset shaft and disc configuration together with the advanced high technology seat system provides a reliable rugged multi-purpose butterfly valve range.
At the point of the disc opening, the double offset disc provides a cam-like action, thus preventing excessive seat wear and ensuring a long maintenance free life.
• Seat removal is possible without disassembly of the shaft and disc.
• Body insert protects seat from abrasion and erosion.
• Grafoil or PTFE seal-ring & packing.
• Shaft bearing in PTFE or AISI 316.
• 2 Piece stem for extra flow.
Actuator bracket according to ISO 5211, which
allows replacement of the stem seals without
removal of the actuator.
PTFE-Seat system
In the preferred flow direction, the PTFE-Seat
system provides optimum performance. In this
design, the line pressure acts as a positive force
in the seat system even in fluctuating working
conditions. The seat ring is well protected by
the valve-body, thus preventing seat distortion.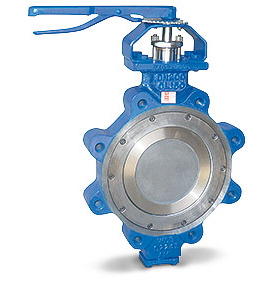 Bi-directional
The primary PTFE-seat ring is backed up by a secondary metal ring. This metal seat provides a mechanical load to energise the PTFE-seat. The metal sealing ring secures and encapsulates the PTFE ring to ensure rigidity. In combination with the line pressure a bi-directional sealing against the line pressure is obtained.
Fire safe
The model SLHBFFS has a secondary metal seat which gives bi-directional sealing in the event of the PTFE seat insert being burned away in a fire.
Metal to Metal Seat
Metal seated valves are specified for high temperature service and abrasive service. Metal seated valves are bi-directional and inherently firesafe design. The primary metal seal enables this execution to be used up to 670ºC. Seat-rings available are stainless steel ANSI 316L-chromium plated, (maximum allowed temperature: 310ºC) and Inconel 625 (maximum allowed temperature: 760ºC). As a result the Metal to Metal range meets the full pressure and temperature rating according to ANSI class ratings.
For class VI shut off a triple eccentric disc design is required.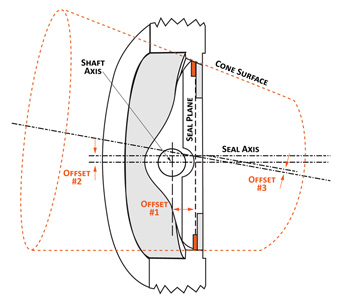 Triple Offset Butterfly Valves SLHBF-T
Superseal SLHBF-T 150 to 1500 class triple offset metal seat butterfly valves provide a bi-directional and bubble tight shutoff, which is attributed to the geometry of the triple offset seat. The valve stem is offset from the seat area (1st offset) and the valve seat surface centre line is offset against the centre line of the pipe (2nd offset) and the conical axis is offset from the valve centre line (3rd offset: inclined cone). The 3rd offset completely eliminates rubbing or scraping. The seat surfaces of the body and seal ring in this triple offset design, contact with an inclined "cone-in-cone", and this design requires precision seating tolerances and durability to ensure a slight precision lapped wedge-mating effect. In addition, the angle of contact between the body and seat ring provides a low opening and closing torque due to almost no wedging and no scraping action on opening or closing (unlike trunnion mounted ball valves). This eccentric triple offset design provides excellent sealing performance and seat durability and it hardly ever needs repair under normal service conditions.
Characteristics and Merits
Excellent durability.
Bi-directional zero leakage service.
Low emission design, quarter turn construction, low operating torque and lower cost.
LINED BUTTERFLY VALVES
Model 2014, 2014HP, 2014HP2
Superseal 2014 series Butterfly valves are manufactured
in accordance with MSS SP 67, and API-609.
Both Lugged and Wafer style valves are designed for
ANSI 125/150lb class flanges as well as BS/AS table
D to H. DIN and JIS are also available, rated at
1400kPa (200 PSI) WOG service. Model variables are
also available in 1600kPa, 2000kPa, 2100kPa and 2400kPa.
Refer to our brochures on Model 2014HP and 2014 HP2 (in a limited size range).
Superseal Butterfly valves make an excellent choice by combining the balance of an economical valve with the performance you expect in a commercial, HVAC, industrial and petrochemical service butterfly valve.
Superseal Butterfly Valve Materials
Features
• 100% bi-directional factory tested valve product.
• Extended neck design for applications that require insulation.
• One-piece uni-body construction of cast iron designed to accommodate both ANSI, BS/AS
and DIN flanging. 2-piece body design also available for PTFE lined.
• Integral mounting flange will accept all styles of hand levers, manual gear operators and pneumatic or electric actuators.
• The cartridge seat design helps prevent the possibility of a blowout and ensures ease of
replacement. The ribs on the outside of the elastomer seat provide an interface seal with
flanges for no-gasket installation.
• Field replaceable seats are a standard design feature.
Material Options
• Body Materials: Ductile Iron, Cast Iron, and Stainless Steel.
• Disc Materials: Ductile Iron, Bronze, 316SS, Nylon Coated over Ductile Iron, PTFE over 316SS.
• Seat Materials: Buna-N, EPDM, Viton, and Teflon.
• Operators: 10 Position lever handle, Gear Operators, Pneumatic Rack & Pinion Actuators.
• Accessories: Galvanised Stem Extensions (Extended Bonnets), Chain Wheel Operators,
Square Operating Nuts and Cranks.
Superseal also manufactures a 2-Piece body (Model 20142P) for solid PTFE lined applications.
ANSI Valves Overview
Superseal Installation and Operations Manual
Superseal Sample Drawings