TECHNICAL SPECIFICATION - BALL VALVES
TECHNICALLY SUPERIOR
Australian Pipeline Valve (APV) API6D Trunnion Mounted Ball valves include features such as: NACE specification, API 607 7th edition/ISO 10497-2 firesafe certified design, ISO 15848-1 2015 fugitive emission certified design, ESDV service suitability and B & B - DB & B capability. APV ball valves can also be supplied for special applications such as extended stems for cryogenic and buried service, metal to metal seating for high temperature, and abrasive services. Furthermore, special seating and sealing systems are available such as Double Piston Effect (DPE) and Single Piston Effect seating, Trunnion Bearing Protection System, Double Seat Pocket Sealing System, and lip seals.
Your Partner in Technology, Quality and Service.
QUALITY POINTS OF DIFFERENCE FLOATING BALL
Unlike most Chinese and Taiwanese flanged floating ball valves, APV flanged and buttweld ball valves are manufactured in accordance with ASME/ANSI B16.34, API608 and API6D requirements for standards such as wall thickness, flange thickness, and bolting. Most Taiwanese and Chinese ball valves (particularly in Stainless Steel body) are light pattern and despite documentation showing applicable standards, the joining body flange and/or end and the wall thickness of the body itself often does not conform to ASME B16.34 wall.
Furthermore, Chinese and Taiwanese ball valves usually do not have high tensile hex, heavy duty bolts and nuts (again particularly in Stainless Steel body) which are also required in order for the valve to conform to ASME & API requirements. Consequently the design of such valves is not up to ANSI/API standards in terms of bending strength, pressure holding capabilities and corrosion allowances. APV floating and trunnion ball valves are solid ball, not hollow ball or "hollow core" (hollow core has a welded in cylinder in the bore, a practice common amongst Chinese manufacturers). All APV cast steel valves are investment cast (lost wax process). For larger sizes and higher pressure classes superior resin sand castings are used.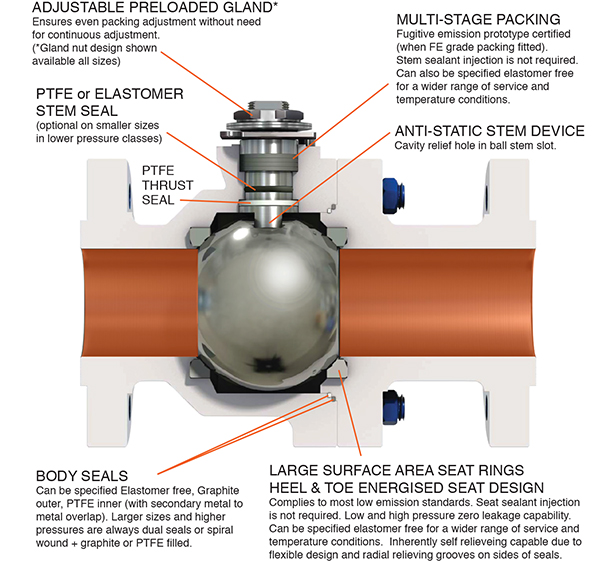 Designed to outlast other valves in a wider range of service conditions. Our innovation is to
provide a valve design that can be specified with elastomer free inert specifications to handle
a broader range of temperature and media service conditions.
Furthermore, APV use the hex round body design not the scalloped design. This provides a heavier wall around the body bolt penetrations minimising risk of through leakage while increasing bending strength. Heavier, longer pole type levers are fitted as standard from 100NB (4").
In addition, the full range of APV floating and trunnion ball valves are firesafe tested and DNV witnessed to API607 (5th, 6th & 7th edition) and ISO 10497 and API6FA. Furthermore, APV's firesafe certificates show DNV witness verification of the actual model style of the valve tested which in turn is referenced on drawings and certificate furnished with the valves. Furthermore our ball valves are fugitive emission prototype certified to ISO 15848-1 valves are fitted with Chesterton 1622 fugitive emission packing.
We work with our sub-contractors specifying continuous improvements such as: heavier stems and levers, larger seat contact areas, and stainless steel top-works components. Compact quality Diamond Gear® gearboxes are used, not "China domestic" large WCB gearboxes as supplied by other brands.
Our stem and stuffing box smoothness is superior to API requirements.
Direct Mount Pad With Live-Loaded Stem Seals
APV Ball Valves intended to be fitted with actuators can be supplied with a 'direct mount pad' utilising a stem seal arrangement where the seals are retained by a stem or packing nut, with 'live-loading' of the stem seals. This live loading is accomplished by the addition of Belleville (also known as disc) springs below the packing nut. The purpose of live loading the stem seals is to maintain the initial sealing load on the seals as they wear, or as they compress further, reducing or eliminating the need for frequent packing nut adjustments.
This provides superior stem sealing for critical service applications and lower maintenance. Valves fitted with direct mount pads are utilised for direct mounting of actuators and as accessing the stem packing would require actuator removal, a live loaded packing system avoids or reduces maintenance (however, open brackets can be fitted allowing room to adjust packing). Click here for more information. We can also supply a direct mount pad design that has an access point for packing adjustment without the need for top works dissassembly or actuator removal.
QUALITY POINTS OF DIFFERENCE TRUNNION BALL
APV manufacture trunnion ball valves with A105 or LF2 or F52 + ENP .003" (76 micron) ball/trunnion.
APV uses high phosphorous EN plating that has a Vickers hardness of 500 minimum as standard (further hardening can be performed up to 900vh). 316 Stainless steel is very soft and has no minimum ASTM hardness level. An .003" EN plated ball resists scratches much easier than 316SS. Also it is smoother and provides a better seal in higher classes.
The corrosion performance of EN plating is proportional to the plating thickness. 3 mil plating provides an excellent brarrier protecting the base material (A105N, A350 LF2 or F52). In acidic PH conditions as low as 4.
APV uses superior materials where required such as stems in F51, F6A, 17-4PH, XM19 and seat inserts in POM®, TFM 1600®, Delrin® and PEEK®. Norsok approved materials are provided where required. Standard APV trunnion ball valves have Viton AED o-rings, 316SS body fittings, Diamond Gear gearboxes, 316SS sealant injection facility to both seats & stem (50NB & over).
Australian Pipeline Valve was one of the first companies in the world to gain Fire Safe certification to the fifth edition of API607 (as well as API6FA) for floating and trunnion ball valves and is now one of the only companies in the world to hold Fire Safe certification to the 7th Edition of API607.Fire Safe Certificates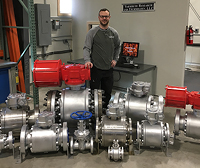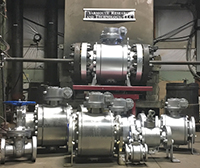 Another batch of APV Trunnion Mounted Ball Valves and Gate Valve awaiting Firesafe Testing to API607 7th edition and Fugitive Emission testing to ISO1548-1.
BESPOKE PRODUCTS 
Floating API6D Double Block & Bleed Ball Valves

The APV BVF100 with F26 trim is a floating "semi-trunnion" design bi-directional API6D full through conduit side entry 3 piece ball valve available up to 200NB (8") in full port 600 class and up to 150NB (6") full port in 900 & 1500 class. This model is also available in Double Block and Bleed. This floating Double Block & Bleed capable soft seated valve configuration has metal seat retainers (as used in trunnion ball valves) thereby providing the performance of a main line trunnion ball valve, whilst still providing all the advantages of a floating ball, due to fewer internal components such as springs, bearings and elastomer seals behind the seats that can jam, become damaged by particulates or become affected by temperature or contaminants in the media. The elastomer free design provides a lower and higher temperature range and serves a wider range of service types than trunnion valves. Furthermore, should the seats or ball become damaged, they can quickly and cheaply be replaces in the field, which is particularly advantageous for service applications with particulates in the media. Trunnion valves have an expensive and complex spring loaded and side sealed seat and trunnion / bearing system, which often means it is cheaper to replace the whole valve rather than send it to a valve specialist for repair. Where a trunnion design would normally be required for 600 to 1500 class above 80NB (3"), being able to supply floating design also has the advantage of shorter lead times and lower cost, especially when higher grades of steel are required, as well as for cryogenic applications.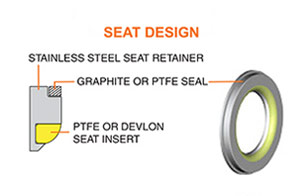 The BVF100 valve with F26 trim has stainless steel seat retainers and an encapsulated RPTFE or Devlon seat insert to ensure the valve handles maximum differential pressure without deformation. Normal floating ball seats tend to grip and distort under high pressure and high velocity, but the F26 seat design ensures torque is not much higher than most trunnion valves. Furthermore, a graphite seal behind the seat provides extra sealing assurance and ensures firesafe integrity. Line pressure provides the necessary force to shut off the valve by pressing the ball into the downstream seat. This 'floating' movement normally lets the upstream seat leak until the pressure between the upstream line and the cavity around the ball is equalized. However, with the BVF100 incorporating the F26 trim, a Double Block & Bleed (DB&B) system can be specified. As the encapsulated seat incorporates a Graphite/PTFE seat seal, there is no chance of pressure crossing behind the back of the seat. With the DB&B option, the seats are configured to provide an energised piston effect on both seats to ensure a positive bi-directional isolation of the body cavity. The energised seat design also provides a drip tight shut off even at very low pressures. A drain valve can be fitted to the bottom of the valve. An automatic body pressure relief valve can then be specified and can be plumbed back upstream or to flare. Conventional trunnion mounted ball valves have self-relieving "single sealing" seats, meaning a closed valve can still leak pressure down stream should the body cavity over pressurise. This can be dangerous if someone is working on the line down stream. Consequently the BVF100 with F26 DB&B "double sealing" seat option ensures that both seats are always sealing so even if the upstream seat fails the downstream seat will always maintain a positive seal. For more information, see our "Special Service Ball Valve Catalogue".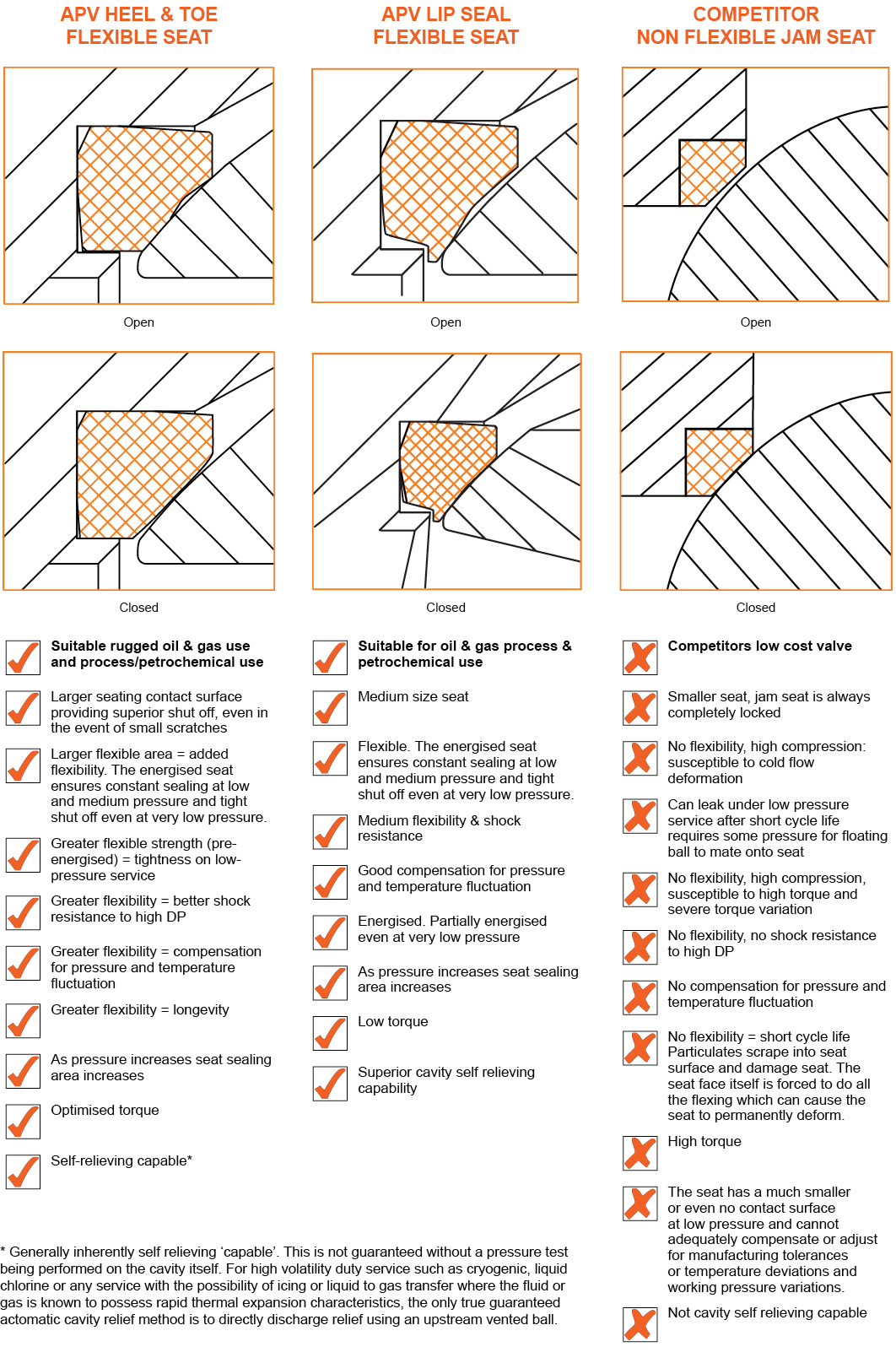 Short Pattern Trunnion Ball Valves 
APV can also supply 150 and 300 class short pattern trunnion and floating ball valves in 150mm (6") to 400mm (16") in reduced and full port. In many cases no one else in the world can offer short pattern solutions in these sizes. 1 piece, 2 piece, 3 piece and welded body design solutions are available in flanged & tapped and cartridge configurations.
Metal Seated Ball Valves

Australian Pipeline Valve manufacture a large range of "metal to metal" seated ball valves for high temperature and abrasive service. Refer our Special Service Ball Valve Catalogue or click here for an overview.
MATERIAL SPECIFICATIONS - TRUNNION BALL VALVES
Body and Trim Material
CARBON STEEL
• ASTM A105
Low Temperature Carbon Steel
• ASTM A350 LF2
Low Alloy Steel
• AISI 4140
• ASTM A694 F60
• API 6A 60K (A694 F60 MOD)
• ASTM A694 F65
• ASTM A694 F52
Martensitic Stainless Steel
• ASTM A182 F6A
• ASTM A182 F6NM
Austenitic Stainless Steel
• ASTM A182 F316
• ASTM A182 F316LN
• ASTM A182 F44 (6% Mod)
• ASTM A182 F316 FXM-19
Precipitation Hardening Stainless Steel
• ASTM A564 Gr. 630 H1150M (UNS S17400)
Ferritic-Austenitic Stainless Steel
• ASTM A182 F51 - UNS S31803/S32205 (22CR Duplex)
• ASTM A182 F51 - UNS S32750 (25CR Duplex)
• ASTM A182 F55 - UNS S32760 (25CR Duplex)
Nickel Alloy
• Incoloy 825 - UNS N08825
• Inconel 625 - UNS N06625
• Inconel 750 - UNS N07750
• Monel K-400 - UNS N04400
• Monel K-500 - UNS N05500
Bolts and Nuts
• ASTM A193 B7 & A194 Gr. 2H
• ASTM A193 B7M & A194 Gr. 2HM
• ASTM A320 L7 & A194 Gr. 7
• ASTM A320 L7M & A194 Gr. 7M
• ASTM A193 B8 Cl. 2 & A194 Gr. 8
• ASTM A193 B8M Cl. 2 & A194 Gr. 8M
• ASTM A453 B8 Gr. 660 Cl. a & A453 Gr. 660 Cl. a
• UNS S31803 & UNS S31803 (Duplex SS)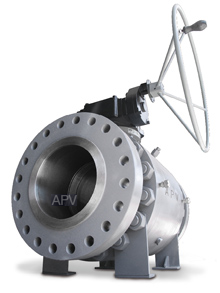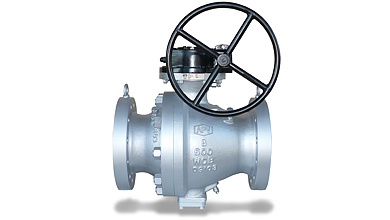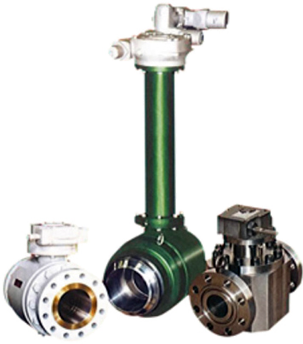 Seat Inserts & Seals Material Operating Limits
 
Material
Temperature°c
Pressure
Class Size
Min.
Max.
Seat
Seal
Insert
Seat
Seal
Insert
NYLON®SMX
-60
140
2500
N/A
NPS 60
N/A
NYLON 12-G (LAURAMID)
-60
100
2500
N/A
NPS 60
N/A
NYLON 6 (DEVLON-V API)
-100
140
2500
N/A
NPS 60
N/A
PEEK - VIRGIN
-100
240
2500
NA
NPS 36
N/A
PEEK - VESPEL
-20
280
2500
N/A
NPS 36
N/A
PTFE GLASS FILLED (25%)
-100
200
600
N/A
NPS 20
N/A
PTFE CARBON FILLED (25%)
-100
240
300
N/A
NPS 20
N/A
PCTFE
-196
150
2500
N/A
NPS 30
N/A
HNBR - Therban / E985
-40
150
600
2500
NPS 60
NPS 60
FKM A/B (VITON A/B)
-29
180
600
2500
NPS 60
NPS 60
FKM GLT (VITON GLT)
-40
200
600
2500
NPS 60
NPS 60
PTFE+ELGILOY SPRINGS
-196
200
N/A
2500
N/A
NPS 36
FIRE SAFE GRAPHITE
-240
560
N/A
2500
 
NPS 60
Temperature ratings shown are the maximum range and reduce as pressure increases. As size increases, pressure/temperature ratings can decrease, especially seat insert materials. Similarly, at lower temperatures and in larger sizes, the pressure/temperature rating of elastomers and seat insert materials is affected.
Plating / Coating
• Electroless Nickel Plating : 25 μ, 75 μ
• Tungsten Carbide Coating : 150 μ
• Chrome Carbide Coating : 150 μ
• Weld Overlay : AISI 316L, Alloy 625
• Stellite
NACE
On request, our ball valves can be supplied
in accordance with NACE MR0175 & MR0103/ISO 15156
requirements.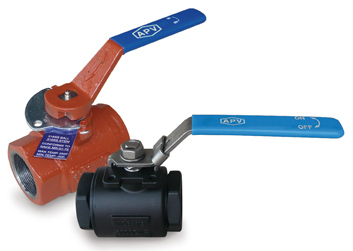 Design and Inspection Standards of APV Ball Valves
Standard Coverage
American Standards*
British Standards*
Pressure temperature rating
ASME B16.34
BS 1580
General valve design
API 608 and API 6D
BS 5351
Shell wall thickness
ASME B16.34
BS 5351
Face-to-face dimensions
ASME B16.10
BS 2080
End flange dimensions and
flange dimensions
ASME B16.5
BS 1560
Pressure test
API 598 or API 6D
BS 6755 Part 1
Fire test
API 607 and API 6FA
BS 6755 Part 2
* Most British standards are now replaced by ISO standards. Most ASME & API standards now have a twin ISO standard.
BALL VALVE TECHNICAL REFERENCES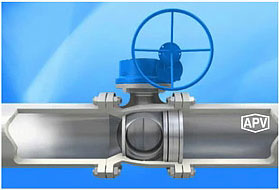 Cast 1 Piece End Entry Floating Ball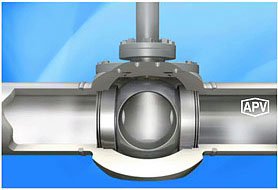 Cast Top Entry Trunnion Ball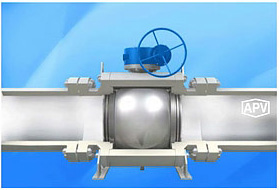 Forged 3 Piece Trunnion Ball
150NB (6") & Over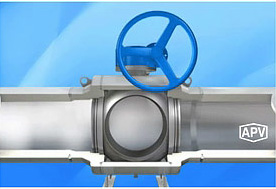 Forged Welded Body Trunnion Ball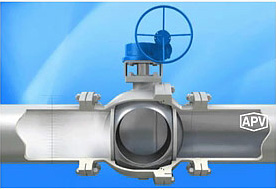 Cast 2 Piece Floating Ball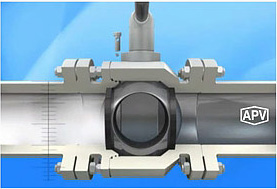 Forged 2 Piece Floating Ball