QUALITY & CERTIFICATION
QUALITY COMMITMENT
How does Australian Pipeline Valve (APV) manufacture valves that offer superior performance and service life? The answer is "Total Quality Commitment" Since its founding, APV's philosophy has been focused on quality. Our valves are manufactured in full compliance with worldwide standards (such as ASME section III, ANSI B16, API600, API6A, API6D, API602, API607, ISO, DIN, BS, AS).
Product testing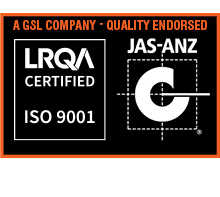 Every APV valve is subjected to hydrostatic and pneumatic testing before leaving the factory to help ensure problems won't arise in the field.
"Quality Commitment - Our aim is to offer products and services which not only meet but also clearly exceed the expectations of our clients."
QA REQUIREMENTS COVERED
Fully guaranteed with warranty and full factory material and test certification
$20 million Product liability insurance
Applicable quality assurance
Applicable manufacturers data sheets
In compliance with required standards and approvals
$1 million worldwide transport insurance
Documentation
Full product documentation, commissioning and maintenance instructions are available. Detailed drawings can be supplied.
Certification
Certifications for various requirements complying to recognised international standards can be supplied for all APV valves. Special witnessing and third party inspection can be arranged. Full metallurgical material and test certification is supplied on body and major trim components to EN 10204-3.1 (DIN 50049.31). NDT such as dye penetrant and ultrasonic testing is also performed as required.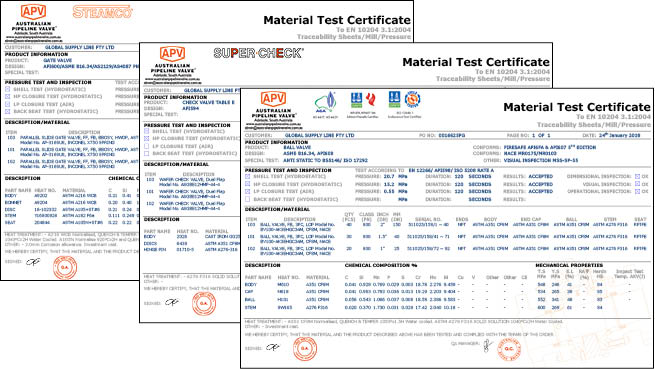 Major Contracts & Projects
Project activity is handled by worldwide sales master distributor - Global Supply Line Pty Ltd. Our products comply with international standards and client project specifications, including actuation and controls, special testing, painting, tagging and packing. In fact we offer the complete valve supply package, including documentation in electronic format and shipment to sites worldwide. A dedicated expediting department compliments the service given to our customers by providing delivery plans and ensuring timely despatch of product.
STANDARD MATERIAL AND TEST CERTIFICATION
HYDROSTATIC TEST CERTIFICATE to API-598 or API6D
INSPECTION TO MSS-SP55
FULL MATERIAL CERTIFICATE to DIN 50049.3.1/ EN1004.3.1
FULL WARRANTY
DYE PENETRANT TEST by accredited test lab to
MSS SP-93 ANSI B16.34-Annex D and other requirements.
MAGNETIC PARTICLE TEST by accredited test lab
to MSS SP-53 and alloy verification
TRACEABILITY ON SPARE PARTS
TAG NUMBER, SERIAL NUMBER (metal tagged)
LLOYDS/ DNV witness of test and/ or valve
CHARPIES IMPACT TEST (if applicable)
MAINTENANCE/ REPAIR MANUAL
DRAWINGS
= As required

POINTS OF DIFFERENCE
Quality points of difference Gate, Globe & Check Valves

All APV cast steel valves are investment cast water glass lost wax process with metal molds, usually up to 300NB (12"). Silica solution - lost wax process is used for stainless and alloy valves in smaller sizes. For larger sizes and higher pressure classes superior 'resin' sand castings are used.
In larger size and higher pressure gate and globe valves the stem nut is mounted with ball bearings for ease of operation. Furthermore, APV forged and cast gate and globe valves have stainless steel 'backseating' in the stem. Bonnet gaskets are encapsulated in a machined recess to further improve sealing.
APV cast stainless gate valves are generally supplied in heavy wall API600 in most sizes. All stainless steel gate and globe valves have an A439 D2C austenitic stainless steel stem nut and a 410SS upper bearing gland unlike other manufacturers who use a bronze nut and carbon steel gland. Furthermore, all external top works parts of all APV valves are stainless steel or zinc plated.
APV cast gate, globe & check valves and API 594 wafer check valves have a lower leakage acceptance criteria than allowable under API598. Seat leakage rates on APV cast API 600/ API 603/ ASME B16.34/ BS1873/ BS1868 gate, globe and check valves is at least 50% lower seat leakage than allowed as per the API 598 standard for metal seated check valves. API 594 dual flap and single flap wafer check valves - the seat leakage rate is 50% lower than is allowed under the API598 standard for metal seated check valves. API 594 resilient seated wafer check valves are tested to drip tight shut off. As resilient seated wafer check valves are not covered under API 594 or ISO 5208 many manufacturers only test in accordance with the metal seated leakage rate. However, APV Supercheck resilient seated check valves are all tested to leak tight shut off.
For ease of operation in larger sizes and higher classes, APV globe valves have 2 stage equalibriated discs facilitating opening and closing and reducing cavitation damage caused by sudden/ high velocity of media.
APV forged gate, globe & check valves have integral flanges as standard up to 2500 class. Where weld-on flanges are used, they are full penetration v-prep welded and dye penetrant tested.
ASTM A216 permits maximum carbon content of 0.30% for grade WCB but APV only allows 0.25% maximum.
Selected APV alloy steel body ball, gate, globe & check valves supplied are fitted with a triple composite body gasket seal system incorporating a 316 stainless steel spiral wound compressed graphite filled body gasket in addition to an integral PTFE inner seal ring. This body sealing system ensures a firesafe seal in additional to all the chemical resistant capabilities that a PTFE inner seal ring will provide. The APV body gasket system is superior to typical graphite and even graphite plus viton seal (in the case of ball valves) systems that have a disadvantage in terms of the reduced range of chemical resistance of viton and graphite, but also viton has a reduced temperature range compared to PTFE. Many competitors only have a single graphite seal which has inferior leak resistant properties and will not meet fugitive emission requirements.
APV also manufacture speciality products which includes styles, types and sizes not produced
by many larger manufacturers.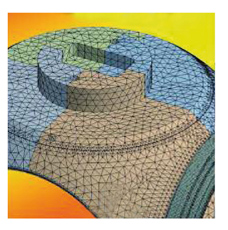 General Quality points
of difference Ball Valves
Unlike Chinese and Taiwanese flanged floating ball valves, APV flanged and buttweld ball valves are manufactured in accordance with ASME/ANSI, API608 and API6D requirements for wall thickness, flange thickness, bolting and other requirements. Most Taiwanese and Chinese ball valves (particularly in stainless steel body) are light pattern and despite documentation showing applicable standards, the joining body flange and/or end flange thickness often does not conform to ASME/ANSI B16. Also, the wall thickness of the body itself often does not conform to ASME B16 wall. Furthermore, Chinese and Taiwanese ball valves usually do not have high tensile, heavy duty bolts and nuts (again particularly in stainless steel body) which are also required in order for the valve to conform to ASME and API requirements. Consequently the design of such valves is not up to ANSI/API standards in terms of bending strength, pressure holding capabilities and corrosion allowances.
In addition all models of APV ball valves are firesafe tested and DNV witnessed to API607 and API6FA. Furthermore APV's firesafe certificates show DNV witness verification of the actual model style of the valve tested which in turn is directly referenced on drawings and certificate furnished with the valves.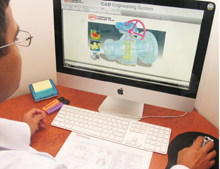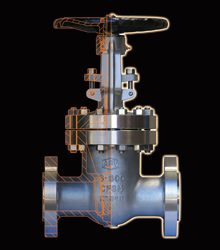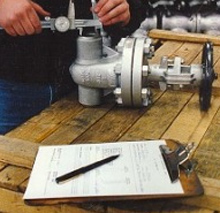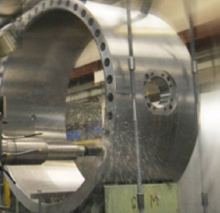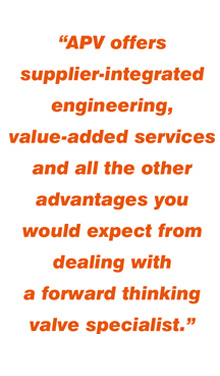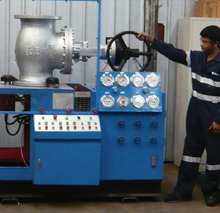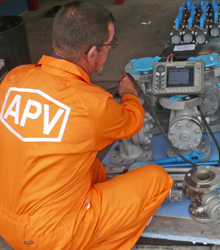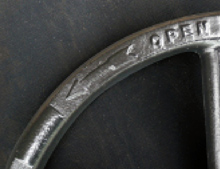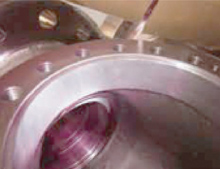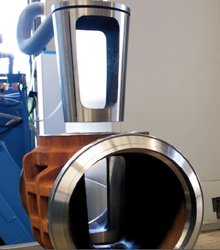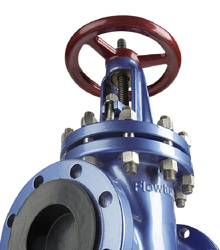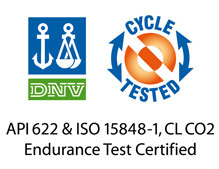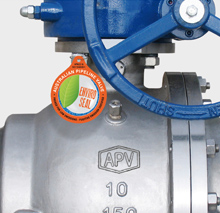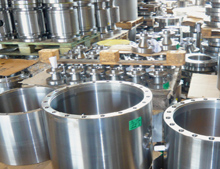 The full range of APV floating and trunnion ball valves and lubricated plug valves are also now firesafe certified to ISO 10497, 2010 and API607 5th & 6th edition as well as API6FA and are all DNV witnessed. APV is also one of the few brands in the world to have firesafe tested our API600 gate valves to API6FA and API607 6th edition and ISO 10497 - DNV witnessed. Furthermore our floating & trunnion ball, gate and globe valves are fugitive emission prototype certified to API624 and ISO 15848-1 DNV witnessed.
Looking for 3/4" to 1 1/2", 150 to 2500 Class, small bore, trunnion mounted? APV can do it! Looking for compact/ short pattern, full port, 6" to 16", 150 - 600#, trunnion ball valves? APV can do it! Others can't!
APV floating and trunnion ball valves are solid ball, not hollow ball or "hollow core" (hollow core has a welded in cylinder in bore, a practice common amongst Chinese manufacturers). Compact quality Diamond Gear® gearboxes are used, not "China domestic" large WCB gearboxes as supplied by other brands.
We work with our sub-contractors to specifying continuous improvements to all types of valves, such as: stronger valve operators, larger stem sizes, larger surface contact seat areas, stainless steel top works components, and larger port sizes.
Click here for APV Ball Valve Advantages
Click here for Overview on ANSI Valves
Quality points of difference Plug Valves
APV metal seated lubricated plug valves are specified with hard F6A/410 plug and stem in most sizes. F6A/410 stainless steel is 50% harder than 316 stainless steel and also has a much higher tensile strength. In addition to being 410 stainless, the plug, stem and lower diaphragm/plate is also nitrided (or ENP or Xylan - LoMo style coating) in most sizes. This guarantees long life for oil & gas service providing good resistance to erosion and corrosion but also makes these valves suitable for dirty and mildly abrasive service applications.
Certification Points of Difference
All steel body valves are provided with a higher level of certification than the minimum requirements of EN 10204.3.1. As well as supplying metallurgical test results on the body, we also in most cases provide it on major trim components. Furthermore, a serialised drawing can be provided for each shipment further verifying all materials.
All body and trim components are heat treated, with the required method being duly noted on the certificate.
All APV cast buttweld end valves have dye penetrant NDT (non-destructive test) performed on bevel area as standard. Other types of NDT such as UT can be performed on request.
All APV welded bonnet forged and cast valves have dye penetrant NDT performed on welds as standard
FIRESAFE CERTIFICATION
FUGITIVE EMISSION CERTIFICATION
Yarmouth Fugitive Emission Certification Summary
ENDURANCE RELIABILITY CERTIFICATION
Yarmouth Endurance Test Certification Summary
AGA APPROVAL CERTIFICATION
APPROVALS
Achilles Approval European Oil & Gas Majors
Major Approvals
Major Users
CERTIFICATION DOCUMENTS
API598 Gate Valve Test Acceptance Criteria
API6D Ball & Plug Valve Inspection & Test Procedure
Document Control List
Final Valve Inspection Procedure
Standard Inspection & Test Plan for API6D Valves
Standard Quality Assurance Certification
DRAWINGS & CERTIFICATES
Examples of Standard Material Certification
Examples of Standard Drawings
APV API 6A Valves & Chokes
APV ASME API Ball & Plug Valves
APV ASME API Gate, Globe & Check Valves
Flowturn Sight Glasses/Strainers/Needle Valves/3 Way Ball
Flowturn/Uniflo Iron Gate, Globe, Swing Check & Diaphragm Valves
Steamco Steam Valves
Supercheck Wafer Check Valves
Superseal Butterfly Valves HP & Lined
Torqturn/Diamond Gear Actuators & Gearboxes
API STANDARDS
• API RP 591 - Process Valve Qualification Procedure
• API 594 - Check Valves - Flanged, Lug, Wafer and Butt-weld
• API 598 - Valve Inspection & Testing
• API 600 - Bolted Bonnet Steel Gate Valves for Petroleum refinery & related applications
• API 602 - Forged Steel Gate, Globe & Check Valves for sizes DN100 & smaller for
Petroleum & Natural Gas industries
• API 603 - Corrosion-Resistant, Bolted Bonnet Gate Valves-Flanged & Butt-Welding Ends
• API 608 - Metal Ball Valves, Flanged, Threaded & Welding Ends
• API 609 - Butterfly Valves - Double flanged, Lug & Wafer Type
• API 623 - Bolted Bonnet Globe Valves for Petroleum refinery & related applications
• API 6D - Specification for Pipeline Valve
• API Q1 - Specification for Quality Programs for the Petroleum, Petrochemical
& Natural Gas
• API 6A - Specification for Wellhead Equipment
ASME/ANSI STANDARDS
• ASME/ANSI B 16.5 - Steel Pipe Flanges and Flanged Fittings
• ASME/ANSI B 16.10 - Face-to-Face and End-to-End Dimensions of Ferrous Valves
• ASME/ANSI B 16.25 - Butt-Welding Ends
• ASME/ANSI B 16.34 - Steel Valves
OTHER STANDARDS
• NACE Std. MR 01.75 - SSC Resistant Metallic Materials for Oilfield Equipment
• BS 4504
• DIN/EN 1092-1
• JIS B2220
• ISO 7005-1
AUSTRALIAN STANDARDS
• AS 2129
• AS 4087
• AS 4331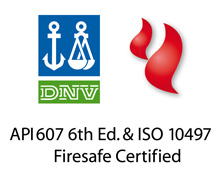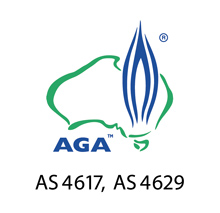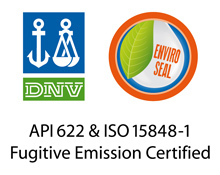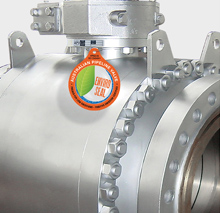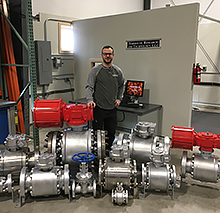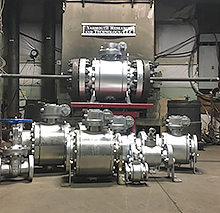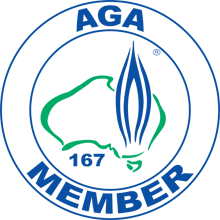 "Australian Pipeline Valve provides isolation, control and flow reversal protection products
for critical and severe service media in steam, utility, oil and gas and process pipelines."