FLOWTURN STRAINERS
PUNCHED PERFORATED STRAINER MESH AREA CALCULATION
For Open Area Calculators, simply select one below
We can supply strainers from stock and fit custom mesh sizes in fast delivery!!
Open area is a ratio percentage is the calculation demonstrating how much of the sheet is occupied by holes. For example, if the open area of the perforated sheet is 40%, it means that 40% of the sheet area is holes and 60% of the sheet is material.
The following calculators provide the open area formula for calculation of perforated sheet with round, square, and hexagon holes in straight or staggered row. Obviously, hole spacing, materials used and mesh thickness dictate the strength & flexibility.
[calculator content]
MESH SIZING AND PERFORATIONS FOR STRAINERS
When selecting a strainer, the size of the mesh, perforations or wire opening must be selected. Selecting holes that are too small leads to excessive pressure drop and more cleaning than may be necessary and can result in screens that are constructed of thinner or weaker metal that can withstand less pressure differential.
The maximum thickness of stainless steel perforated metal is generally one gage thickness LESS than the diameter of the punched holes. Monel or inconel wire can also be used for improved strength.
The larger the wire size, the larger the mesh hole size must be. The open area of the y-strainer or basket strainer must be taken into account as well as the line pressure, media and strainer mesh strength.
APV-Flowturn accomplishes fine straining in larger strainers by mesh lining a heavier gage perforated plate with larger holes for strength.
WOVEN WIRE MESH


INLINE PERFORATED/PUNCHED SHEET

STAGGERED PERFORATED/PUNCHED SHEET

The table below illustrates perforated sheet for each ASTM mesh number and the straining size capability in microns.

The major factor in choosing hole and mesh size is the quantity and size of the particles that can pass through equipment downstream without causing damage.
The 'hole spacing' is distance between the centres of any two adjacent holes.
STAGGERED PERFORATED SHEET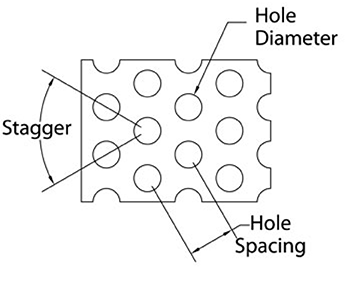 INLINE PERFORATED SHEET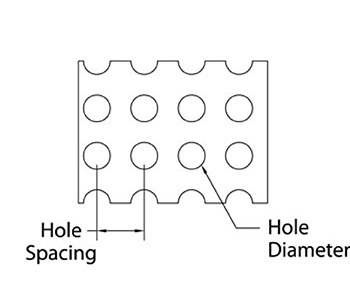 For a specific hole size, when 'hole spacing' is greater, the open area is lower for the metal which has been perforated.
Finally, a 'strainer' is not a 'filter', hence selecting mesh too fine can result in blockage, excessive cleaning, reduced flow and rupture of the screen.
View our stock list click here.
Australia's biggest stockist of Y-Strainers and Basket Strainers in carbon steel, stainless steel, cast iron, 150 class to 2500 class, AS 2129 Table D/E/F,  AS 4087 PN 14/16/21/35, NPT, BSP, Flanged, Butt weld, etc. We can supply and fit fine wire mesh to suit your requirements.
We stock:- Y TYPE AND BASKET (BUCKET) TYPE IN THE FOLLOWING NB:- 6MM, 8MM, 10MM, 15MM, 20MM, 25MM, 32MM, 40MM, 50MM, 65MM, 80MM, 100MM, 125MM, 150MM, 200MM, 250MM, 300MM, 350MM, 400MM, 500MM (1 INCH, 1.5 INCH, 2 INCH, 3 INCH, 4 INCH, 6 INCH, 8 INCH, 10 INCH, 12 INCH, 14 INCH) IN ANSI CLASS 150, 300 CLASS, 600 CLASS, 800 CLASS, 900 CLASS, 1500 CLASS, 2500 CLASS AND 1000, 2000, 3700PSI & 6000PSI
END CONNECTIONS:- ANSI B16.5, ANSI B16.1, ANSI B16.25, BS21
BODY MATERIALS:- ASTM A105N, A216 WCB, A216 LCB, ASTM A350 LF2, AUSTENITIC:-ASTM A351 CF8, ASTM A351 CF8M, ASTM A216 GR WCB, ASTM A351 GR CF8M, A216 GR LCB, ASTM A182 F51 (DUPLEX) ASTM A182 FSS (SUPER DUPLEX), ALLOY 20-CN7M, ASTM A182 F316L, ASTM A182 F316, ASTM A182 F304L, ASTM A182 F304
END TYPES:- NPT THREADED, BUTTWELD (BUTT WELD,) SOCKETWELD (SOCKET WELD), FLANGED ANSI RF (SMOOTH FINISH & STOCK FINISH),FLANGED ANSI RING JOINT (RING GROOVE), FLANGED AS TABLE D,E,F,H,J., FLANGED BS TABLE D,E,F,H,J.
FLANGED ANSI RING JOINT (RING GROOVE), FLANGED AS TABLE D,E,F,H,J., FLANGED BS TABLE D,E,F,H,J.
TRIM TYPES:- ASTM A182 316L, ASTM A182 316, ASTM A182 304L, ASTM A182 304, ALLOY 20, NACE MR-01-75 STANDARDS:- TO ASME ANSI B16.34, ANSI B31 AND BS
DIMENSIONS:- TO ASME B16.10, BS, AS, EN
STRAINER BONNETS:- QUICK RELEASE LID (BRIDGE TYPE CLOSURE), BOLTED BONNET,
SCREWED BONNET
STYLES:- Y (WYE, T TYPE, SIMPLEX BASKET TYPE (BUCKET TYPE), DUPLEX BASKET TYPE
CAST IRON/DUCTILE IRON Y-TYPE & BASKET STRAINER STANDARDS
Our large stock of Cast Iron & Ductile Iron Y-Type & Basket Strainers in our Australian inventory conforms to the following standards. Global Supply Line is the largest Australian stockist and supplier of Iron Y-Type & Basket Strainers valves. Australian Pipeline Valve - Flowturn is a quality manufacturer of fully tested & guaranteed Y-Type & Basket Strainers valves.Stock range of valves in Cast Iron, Ductile Iron & Steel ex Adelaide - Australia: -Ball Valves, Swing Check Valves, Dual Flap Wafer Check Valves, Wedge Gate Valves, Parallel Slide Gate Valves, Globe Valves, Screw Down Non Return Valves, Plug Valves, Y-Strainers, Basket Strainers.Size range 6NB to 900NB (1/4" to 36") Cast Iron, Ductile Iron, Carbon Steel, Stainless Steel, Alloy Steel, Duplex Steel.
| | |
| --- | --- |
| SPECIFICATION | CLASSES |
| AS 2129 | TABLE D / E / F / H / J |
| AS 4087* | PN14 / PN16 / PN21 / PN35 |
| AS 4331.1 & AS 4331.2 (DIN 2034) | PN10 / PN16 / PN25 / PN50 / PN110 / PN150 |
| ASME (ANSI) B16.5 | CLASS 150LB / CLASS 300LB / CLASS 600LB / CLASS 900LB / CLASS 1500LB |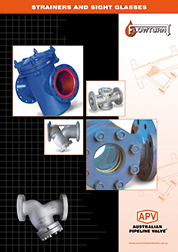 Click here for the Flowturn Strainer catalogue (we stock all sizes)
* Covers pressure AS 4087 class PN14, PN21, PN35 equivalent drilling to AS 2129 Table D, E, F BS10D, BS10E, etc. See Global Supply Line Slide rule for minor metrication differences Click here.
Click here for our full online stock list.