SLFSBV01 & BV02 Floating Ball Valve 150 to 600 Class True Oil & Gas Service
March 7, 2023
Australian Pipeline Valve's floating firesafe SLFSBV01 API 6D & API 608 ball valve design has been further improved over the last 15 years. Many conventional gland packed ball valves with standard bolted yoke gland rely on the yoke housing to act as the stop device for the lever which over time subsequently loosens the gland packing. In addition, the open/close stop points are often not precise. Australian Pipeline Valve have a nut & lock tab energised stem seal arrangement with independent screw in stop pins that includes all sizes in 1 and 2 piece body designs. All exposed top parts are stainless steel.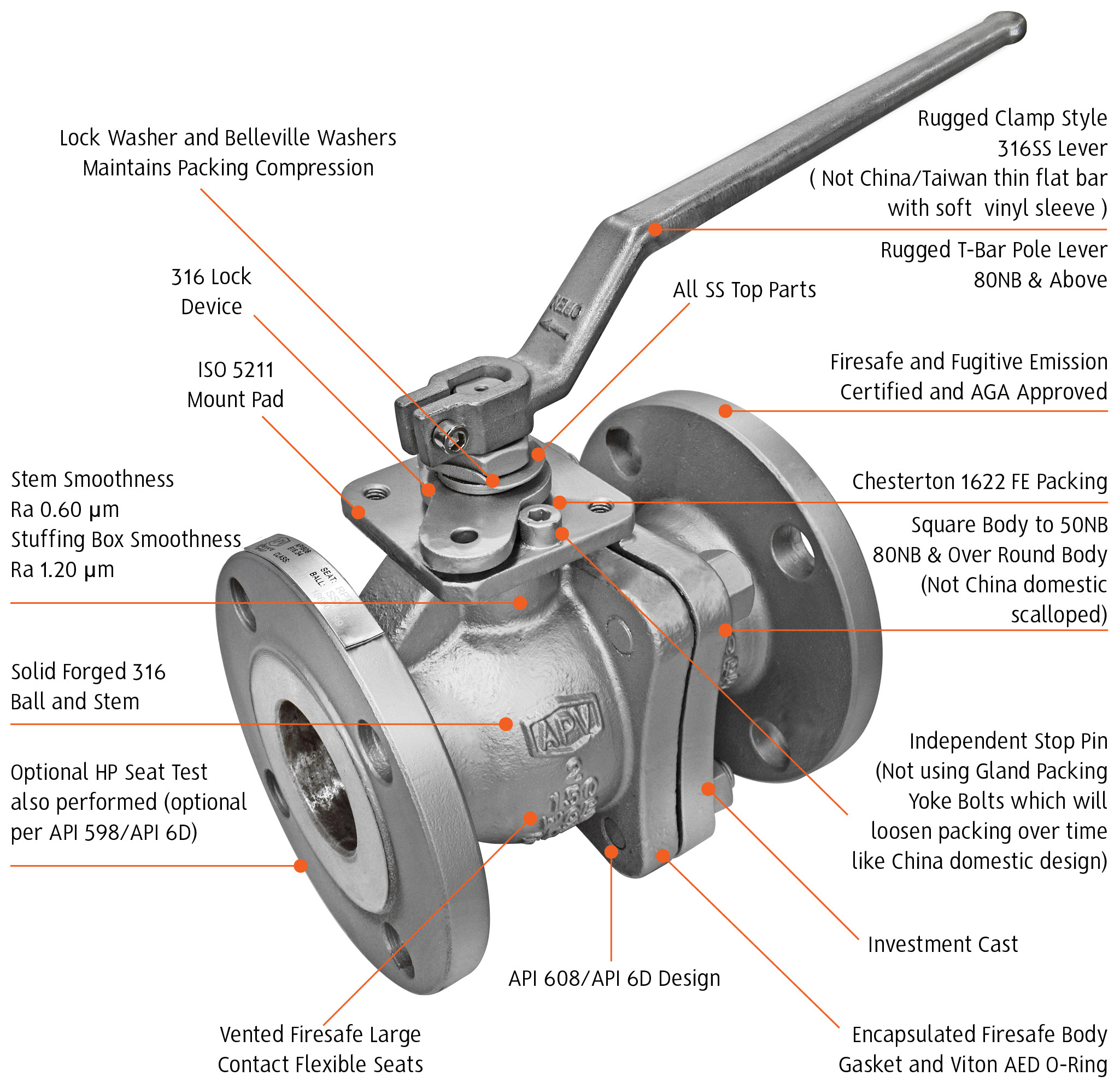 API 608 and API 6D specifies that where there is an external gland packing tightening arrangement, it should be accessible. Direct mount pad designs often utilised by Asian manufacturers don't allow access to tighten packing and view leakage. Australian Pipeline Valve's SLFSBV01 design is also available in austenitic stainless steel with a direct mount pad option which still allows side access to inspect and adjust the gland packing, unlike other designs on the market. See our catalogue for our design of austenitic stainless steel version. The wall thickness and port size on the SLFSBV01 conforms to API 6D and API 608. Furthermore, all ferritic & duplex SLFSBV01 valves are tested to API 6D dual conforming to API 598. To do a low pressure and a high pressure seat test is optional as per API 598 and API 6D however, all APV valves are tested HP and LP as standard. Australian Pipeline Valve uses heavy duty full 316 stainless steel levers and stop plates and quality 316SS lock devices. Valves starting from 80NB (3") & above have a pole type lever to provide ease of operation even in slightly dirtier media situations. All designs also include belleville springs to maintain packing tightness and reduce the need for tightening packaging
The large contact face, slightly energised seat enables partial seat contact and partial floating for extremely low pressures whilst increasing seat contact as the pressure increases. At the same time particulate matter trapped in the seat area is less likely to cause the seat to jam and therefore subsequent seat damage is less likely. The heavy-duty stem and the heavy-duty pole lever combined with self adjusting belleville washers and triple barrier stem seal system (nut energised) ensure a long life and lower emissions.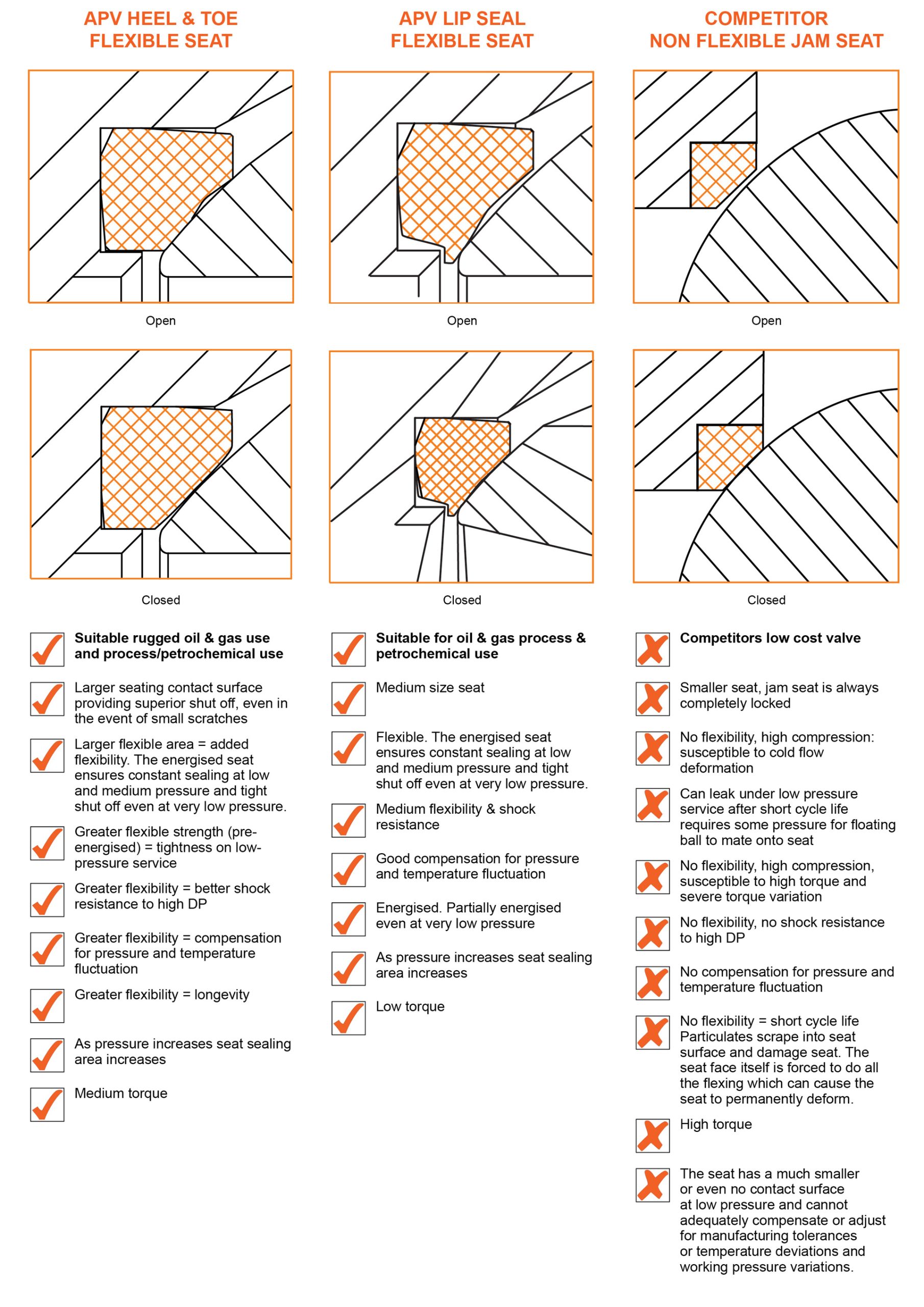 For austenitic ball valves, many markets require a firesafe valve, but due to contaminants and chemicals, elastomers such as viton and/or graphite is not allowed. The APV austenitic valve design avoids this problem in two ways: First of all, the spiral wound graphite filled body gasket has a PTFE inner, secondly the stem packing can have 2 PTFE primary seals underneath the graphite stem packing. View the APV Ball valve catalogue at our website for more information. Global Supply Line stock holding includes a large range of austenitic and ferritic valves in firesafe & non firesafe (including elastomer free), as well as spare parts allowing us to re-trim our valves in short lead time.
Other points of difference:
Heavy wall to API 608/API 6D and ANSI B16 with high tensile hex heavy B7M + galvanised or B8M bolts (not Taiwan/China style with 'hardware store' bolts).
Heavy galvanised T-Bar pole lever with stainless steel t-piece (80NB and above).
Superior TFM 1600 PTFE seats (TFM1600 is a modified version pf PTFE that maintains the exceptional chemical and heat resistance properties of PTFE but has a significantly lower melt viscosity). The result is reduced cold flow, porosity, permeability and void content. Surfaces are smoother with reduced torques.
Direct mount pad version is available with access for adjustment of gland packing without disassembly of other upper components (as is a requirement for oil and gas companies). Also our design has a longer packing chamber for austenitic valves which removes the requirement for FKM or viton stem seal which can be compromised be temperature or chemicals in media. All parts are full stainless steel. Belleville spring washers are standard for ensuring live loading of packing.
The standard APV seat design is energised flexible 'lip seal' or 'heal & toe' design with a large contact face.
Round body design or straight edge (not wave style scalloped) octagonal/hex body in smaller sizes. Conforming to API 6D/Api 608/ASME B16.34 design & wall thickness requirements.
DNV witness firesafe and fugitive emission certified in ferritic and austenitic in all sizes & classes. Graphite packing is fugitive emission certified to API 602 as specific in API 641. The full range of valves are fugitive emission design certified to ISO 15848-1 as referenced in API 6D.
AGA approved with and without pneumatic Torqturn and Air Torque actuator.
APV ball valves are all tested with high pressure hydrostatic and low pressure pneumatic seat tests. (Note: with this API 598 is optional but APV apply it as standard).
Lost wax investment cast by approved foundry.
Solid forged ball on most sizes/classes with precision seating for optimum torque.
Fully serialised and documented range class model coverage, detailed accurate drawings, certification and IOM's with 5 year warranty click here for our catalogues.
Stem smoothness, stuffing box smoothness & ball smoothness surpass API tolerances.
Click here to view examples of APV drawings.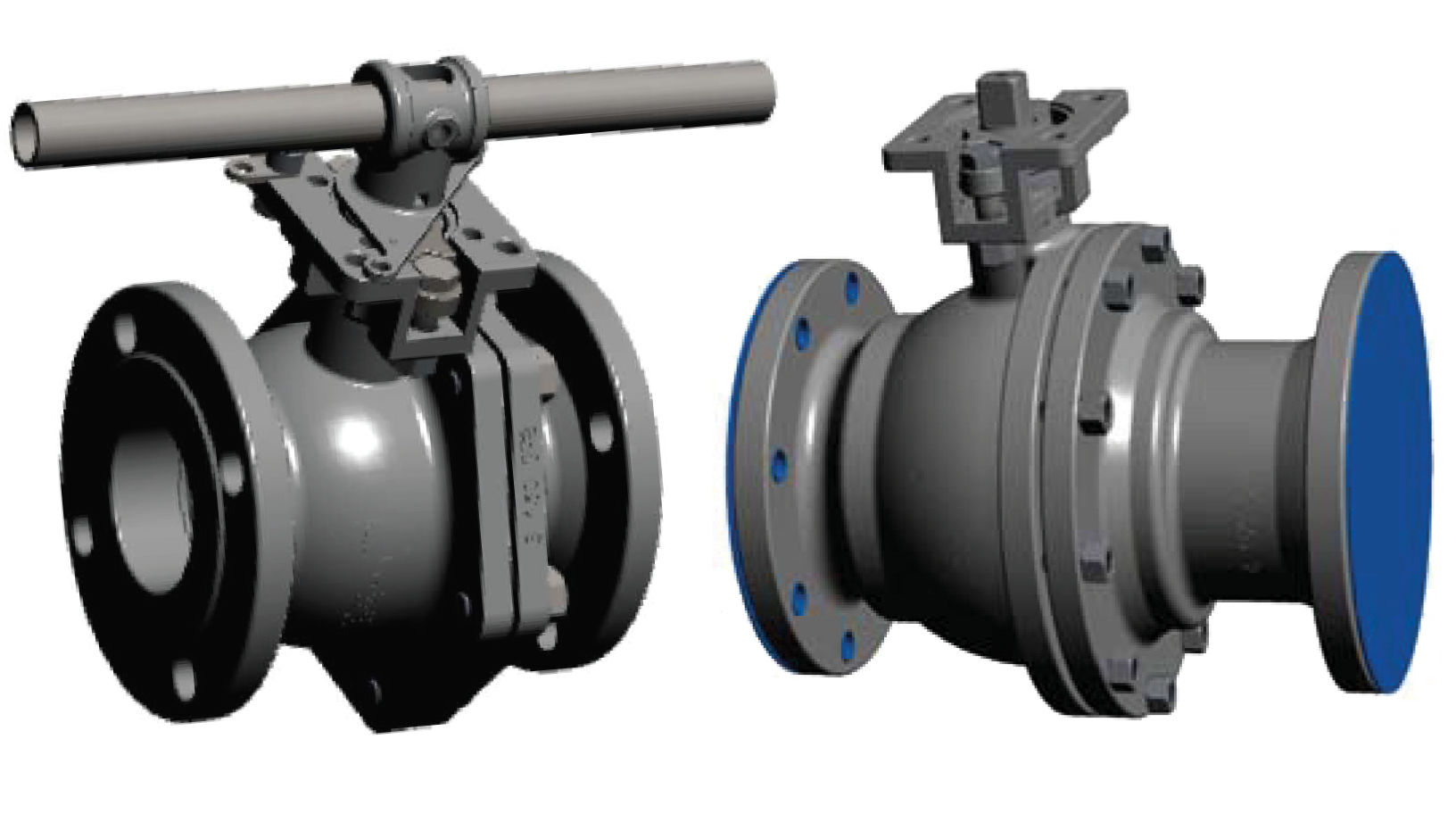 Seat Design
Standard floating ball valves with friction fit seats seal well either under high pressure or low pressure conditions depending on their tightness. However, being too tight causes torque problems which combined with impurities in the line can cause jamming. If not tight enough the valves can leak at very low pressure especially with air, gas or diesel. The problem is compounded by poor quality out of round balls and stem machining. This necessitates the seat to be even tighter to affect a seal.
Many soft seated floating ball valves on the market today are designed for clean refinery service, even if they claim they are API 608/API 6D design. 150 Class floating ball valves need to be designed to handle maximum cold working pressure but also extremely low pressures. This required the ball to be tightened onto the seat as the valve could be used for applications at very low pressure or even gravity fed diesel for example which is "very searching" and can leak past the seat. If a valve is in service that experiences both high and low pressure during the life of its service there will be a compromise between its effectiveness and the life span of the seat. It's all very well to tighten the PTFE seats up tight but Teflon has some 'memory' and long term stress could eventually cause the seat to deform. Consequently to serve both masters, some manufacturers have designed a lip seat energised seat. This is for very clean refinery service however, the seat has an extremely small contact area that will leak if it gets a small scratch or dent. In upstream oil and gas service of course debris and particulates can easily damage the seat but also jam the seat if it is too tight. Also inflexible and poor tolerance seat design made in low cost countries have to be bolted up too tight to get them to pass test which further increases torque and further contributes to actuation problems. In addition, inconsistent low cost country's spiral wound body gasket thickness further hinders a consistent closure pressure (APV valves use an encapsulated double body gasket or a composite encapsulated gasket). APV Balls, seats and stems are manufactured to high tolerances. The solutions to utilise the APV energised heel and toe large contact face PTFE design which is semi-flexible but still rigid enough to ensure seats accommodate high pressures without deformation whilst the light touch large seating face provides a bubble tight seal at low pressure. The larger seating face of the APV design means the seat does not have to be as tight against the ball to achieve zero leakage. This in turn means the valve can still partially act as a true floating ball as any minor debris trapped between the seat and ball will not jam the valve from being operated, yet the valve will still seal sufficiently thanks to the large contact face even if a minor scratch or dent occurs. This is likely as particulates are pushed through the seat, not forced onto it during turning because of the lighter seat tightness. Consequently APV ball valves are not only for refinery service but also rugged oil and gas service. For chemical & downstream process applications our austenitic valves are stocked with energised TFM1600 lip seats.
All APV floating and trunnion ball valves are submerged tank high pressure gas tested in addition to the standard API 598/ISO 5208-/API 6D testing requirements. All APV ball valves have 316 stainless steel body, sealant injections and body fitments as well as 316 stainless steel lock device and gearbox input shaft.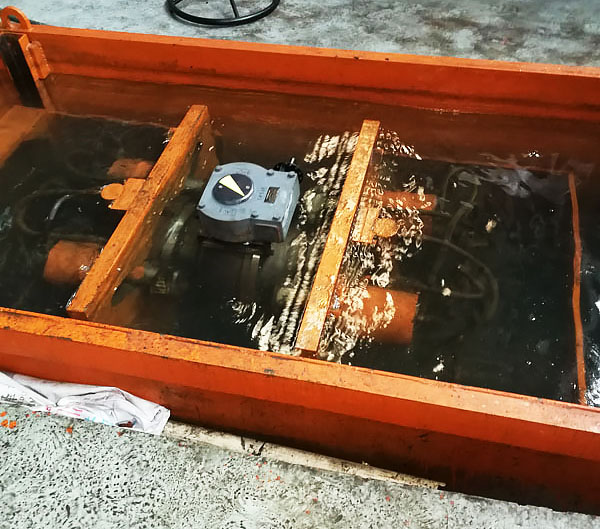 Global Supply Line stock holding includes a large range of Austenitic, Ferritic & Duplex valves, as well as spare parts including seats in PEEK, CGPTFE, PTFE etc allowing us to re-trim our valves in short lead time.