GLOBE VALVE DESIGN DISC STYLE TYPES
August 21, 2023
OPERATION
Australian Pipeline Valve globe valves are for services requiring frequent operation for on-off isolation service as well as throttling. Never attempt throttling at under 20% of stem travel. Closer throttling, can result in higher pressure drops which may cause excessive velocities or cavitation and could cause vibration or high noise levels resulting in damage to the valve or adjacent components/structure.
LIFE
Heavy API 623 construction provides years of reliable service.
DESIGN
Available in bolted and pressure seal bonnet, outside screw and yoke, rising stem with ball or plug type disc, and have flanged or butt weld ends. Screw down non-return (Stop check) also available. Stem with precision Acme threads and burnished finish. Valve suitable for horizontal installation. Conical seating surfaces 13Cr hardfaced/stellite, ground and lapped to a Ra 0.4~0.8 μm finish. Tapered plug type disc as standard. Body guided disc on larger sizes, and higher classes on smaller sizes, accurately mates the hardfaced surface of the disc with the surface of the seat. Body and bonnet joint accurately machined. fully enclosed gasket. Rotating stem nut. Austenitic ductile iron Gr. D-2C, renewable in-line.
STANDARD
To ASME B16.34 / API 623.
Dimensions to ASME B16.10 and ISO 5752.
Wall thickness, stem smoothness and stuffing box finish complies with API 623.
APV stuffing box smoothness ≤Ra 3.2 μm superior to API 623 / API 600.
Stem smoothness ≤Ra 0.80 μm as per API 600/API 623.
COMMON DISC STYLES
TORQUE ARM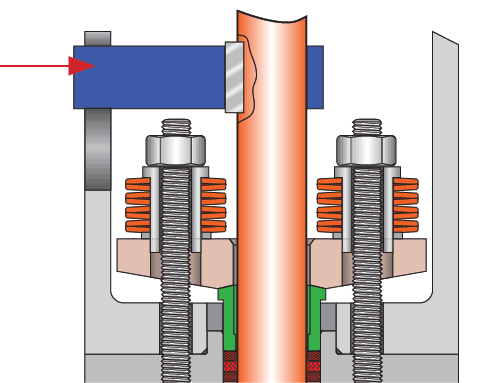 Used in larger sizes and higher pressures the torque arm prevents stem movement which reduces wear on packing rings and enables better sealing as well as reducing torque. Non rotating stem, only the stem nut rotates. The arm also provides visual stem position indication and can be interfaced with position switches. Optional live loaded packing system is shown. Provides improved valve life for throttling applications.
APPLICATIONS OF DIFFERENT DISC TYPES
Globe valves can be supplied with various types of disc depending on the application.
Each style provides various levels of control. The correct selection of disc and material of construction and hardfacing, will minimise wear caused by cavitation in more severe applications.
Disc Functionality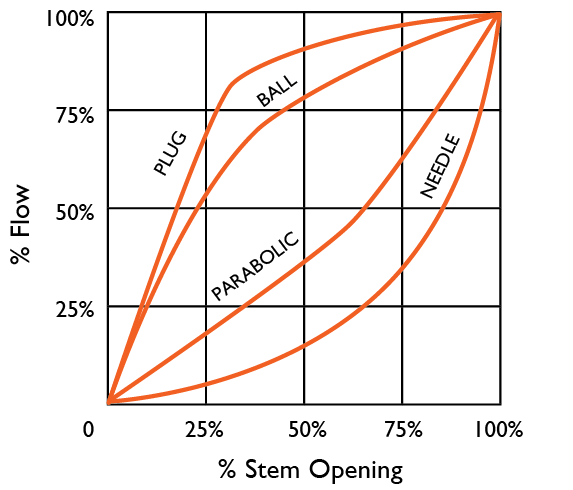 The chart shows the stem opening related to the quantity of flow provided. It also indicates the grade of control over the fluid between the different type of discs.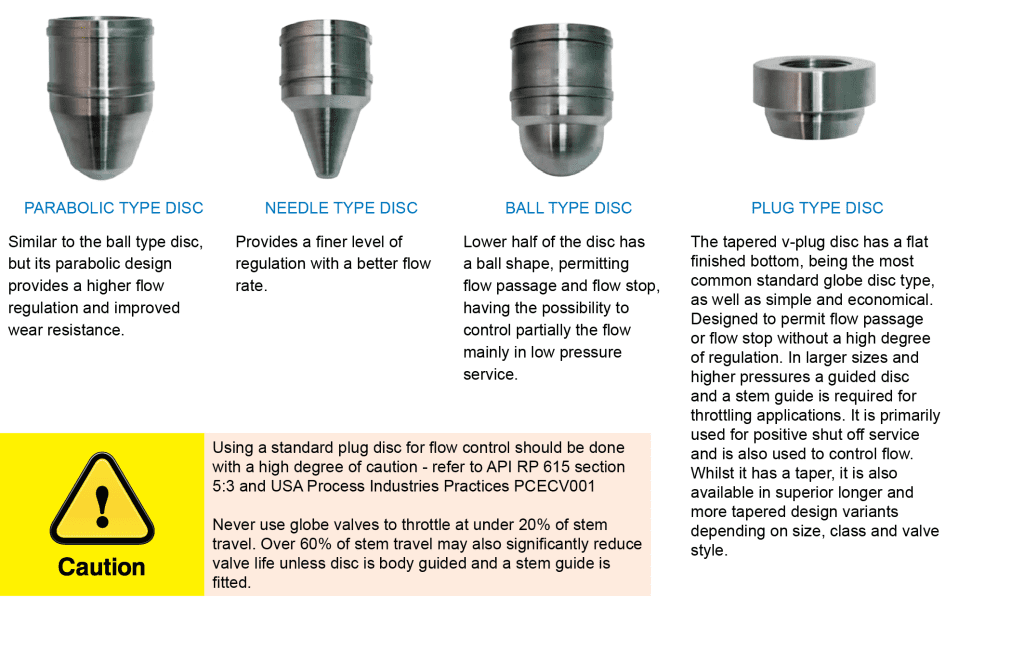 FULL RANGE OF DISC STYLES

FORGED (SMALL DIAMETER) GLOBE VALVE SEATING/DISC TYPES (6~65NB)

BODY GUIDED DISC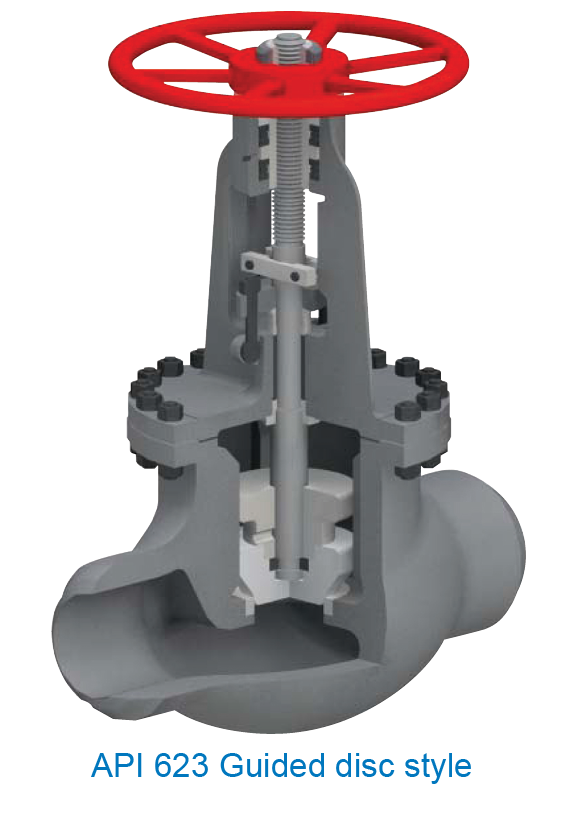 The high-pressure drop in Globe Valves requires a body guided plug to resist vibrations induced by high flow velocity in the Valve Throat. Flow regulation/throttling will cause erosion. While practically all materials will experience erosion, Stellite material has the capability to absorb impulsive force of the flow resisting corrosion and cavitation. When the high regulation of the flow is a requirement, the surfaces of the seat ring and the disc must be covered with Stellite. API 623 requires that globe valves must have a fully guided disc, in order to securely retain the disc to endure the hydraulic forces and vibrations when the valve is throttling. The main purpose of this design is not to transfer lateral forces to the stem, because the allowances between the stem and the disc are larger than the allowance between the body guides and the disc. This keeps the valve packing in position and prevents leakage.